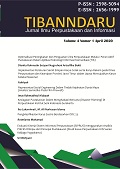 Evaluasi Kinerja Sistem Informasi Perpustakaan (SIPRUS) menggunakan Analisis PIECES Ditinjau dari Persepsi Pustakawan (Studi Kasus Perpustakaan UIN Sunan Kalijaga Yogyakarta)
Abstract
In 2004, the library of UIN Sunan Kalijaga used the Library Information System (SIPRUS) designed by PT. PJI. This system integrates various library sub-systems, for example, Self-service, OPAC, circulation, library processing, and digital repositories. This study discusses how to find information about the system, so an evaluation is needed that provides information about how the program works, and how to discuss problems that can interfere with the implementation of the user's viewing activities. This type of research is an evaluative descriptive study using cross-sectional, which provides an opinion about the user's assessment of the information system currently running in the library of UIN Sunan Kalijaga. Interviews, documentation, and observation are used to collect the data. Data analysis in this study uses reduction data, presentation data, and verification (concluding). Researchers used PIECES (Performance, Information, Economy, Control, Effectiveness, and Service) analysis to get more indicators. The results from this CYPRUS are very helpful in the field of material processing library and also too easy to launch the work administratively. It is probably able to run effectively and efficiently.
Keyword: Library, PIECES Analysis, SIPRUS
References
Azwar, Asniwan. (1999). Analisis SIM RSU Tangerang. (Thesis). Universitas Indonesia; Depok.
Arikunto, Suharsimi. (2013). Manajemen Penelitian. Jakarta: Rineka Cipta.
Davis, Gordon B. (1999). Kerangka Dasar Sistem Infromasi Manajemen Bagian 1; Pengantar. Diterjemahkan oleh Andreas S. Adiwarna. Jakarta: Ikrar Mandiriabadi.
E. Hollander, (2002). Principles and Methods of Social Psychology. New York; Oxford University.
F.L. Whitney. (1998) The Elements of Research. Osaka: Overseas Book Co.
Gordon B. Davis. (1999) Kerangka Dasar Sistem Infromasi Manajemen Bagian 1; Pengantar. Diterjemahkan oleh Andreas S. Adiwarna, Jakarta: Ikrar Mandiriabadi.
Herdiansyah, Haris. (2012) Metodologi Penelitian Kualitatif, Jakarta: Salemba Humanika.
Hikmat. (2011). Metode Penelitian: Dalam Prespektif Ilmu Komunikasi dan Sastra. Yogyakarta: Graha Ilmu.
Hamidi. (2008). Metode Penelitian Kualitatif. Malang: Umm Press.
Hadna, Ida Nur'aini dkk. (2015). Guide Book Perpustakaan UIN Sunan Kaliajaga Yogyakarta. Yogyakarta: Perpustakaan UIN sunan Kalijaga
Hall, James A. (2001). Accounting Information System 3rd Edition. South Western College Publishing.
Jogiyanto, (1999). Analisis dan Desain Sistem Informasi: Pendekatan Terstruktur Teori dan Prakterk Bisnis. Yogyakarta: Andi.
Jogiyanto. (2005). Sistem Teknologi Informasi, Pendekatan terintegrasi: konsep dasar teknologi, aplikasi, pengembangan dan pengelolaan. Yogyakarta: Andi Offset.
Jogiyanto. (2000). Sistem Informasi Berbasis Komputer: Konsep Dasar dan Komponen. Yogyakarta: BPFE.
Kadir, Abdul. (2003). Pengenalan Sistem Informasi. Yogyakarta: Andi.
M, Idrus. (2009). Metode Penelitian Ilmu Sosial. Yogyakarta: Erlangga.
Moleong, Lexy J. (2010). Metodologi Penelitian Kualitatif, Bandung: Remaja Rosdakarya.
Project Review and Objective Evaluation for Electronic Patient and Health Record Project; UK Institute of Health Informatics; 2001), diakses www.nhsia.nhs.uk/erdip: pada 02 Maret 2019.
Partanto, A.Pius dan M. Dahlan Al-Barry, (2010). Kamus Ilmiah Populer. Surabaya: Arloka.
Riady, Hilman. (2000) Faktor-faktor yang Berhubungan dengan Persepsi Pasien Rawat Inap Dalam Menilai Pelayanan Faktur di Rumah Sakit Qadr Tangerang. Thesis, Jakarta: KARS Ul,
Raymond, McLeod Jr. (2004). Sistem Informasi Manajemen. Terjemahan Hendra. Jakarta: Prenhallindo,
Sugiyono. (2013). Metode Peneltitian Pendidikan (Pendekatan Kuantitatif, Kualitatif, dan R&D). Bandung: Alfabeta.
Supriyanto, Wahyu dan Ahmad Muhsin. (2008). Teknologi Informasi Perpustakaan. Jakarta: Kanisius.
Sulistyo-Basuki, (2006) Metode Penelitian. Jakarta: Wedatama Widyo Sastra.
S. Tan, Robert. (2004) Computerized Records and Quality of Cure; Multimedia Health Care; diakses www.mmhc.com, pada tanggal 05 Januari 2019.
Setyo Pramudim, Ecy. (2010). Pengembangan Perpustakaan Digital Berbasis Senayan Library (SLIMS), Semarang: Preneda.
Whitten, Bentley, Barlow. (2001). System Analysis and Design Methods; sixth edition. Boston: Irwin.
Thoha, Miftah. (2002). Perilaku Organisasi. Jakarta: Rajawali.
Yakub. (2012). Pengantar Sistem Informasi. Jakarta: Kencana.
DOI:
http://dx.doi.org/10.30742/tb.v4i1.908
Refbacks
There are currently no refbacks.
This work is licensed under a
Creative Commons Attribution-NonCommercial 4.0 International License
.
Tibanndaru: Jurnal Ilmu Perpustakaan dan Informasi is indexing by:
Reference Management Tools