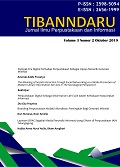 Perpustakaan Digital Sebagai Information Life Cycle dalam Kehidupan Masyakarat Informasi
Abstract
Perpustakaan digital merupakan sebuah sistem perpustakaan yang memanfaatkan teknologi. Kemutakhiran sebuah sistem yang diterapkan oleh perpustakaan tergantung pada pustakawan yang bertugas sebagai pengelola. Pustakawan memegang peranan penting dalam terhubungnya perpustakaan dengan pemustaka. Inti dari penerapan system baru yang diterapkan oleh perpustakaan yaitu konektifitas yang berarti perpustakaan dapat terhubung dengan pemustaka melalui berbagai macam media yang tersedia. Kemudahan akses informasi sangat diharapkan sehingga mampu memenuhi kebutuhan informasi pemustaka. Demi terwujudnya perpustakaan digital yang dapat menghubungkan dibutuhkan kompetensi pustakawan yang memadai di antaranya: pengetahuan dasar, kemampuan interpersonal, kepemimpinan dan manajemen, manajemen koleksi, literasi informasi, penelitian dan kontribusi terhadap profesi, kemampuan dalam bidang teknologi informasi.
References
Aji, R. (2016). Digitalisasi, Era Tantangan Media (Analisis Kritis Kesiapan Fakultas Dakwah Dan Komunikasi Menyongsong Era Digital). Islamic Communication Journal, 1(1), 43–54. https://doi.org/10.21580/icj.2016.1.1.1245
Canadian Association of Research Libraries. (2010). Core competencies for 21 st Century CARL librarians. Ottawa. Retrieved from http://www.carl-abrc.ca/projects/human_resources/0802-lewg_report-e.pdf.
Damanik, Florida Nirma Sanny (2012). Menjadi Masyarakat Informasi. Jurnal Sifo Mikroskil, 13(1), 73-82.
Donny Budi P. (2018). Sejarah Revolusi Industri 1.0 Hingga 4.0. Retrieved September 12, 2019, from http://otomasi.sv.ugm.ac.id/2018/10/09/sejarah-revolusi-industri-1-0-hingga-4-0/
García-Marco, F. (2011). Libraries in the digital ecology: reflections and trends. The Electronic Library, 29(1), 105–120. https://doi.org/10.1108/02640471111111460
Irhamni. (2018). Transformasi Perpustakaan dari Pusat Informasi ke Pusat Aktivitas ( Makerspace ). Media Pustakawan, 25(2), 4–10.
Liu, X. (2017). Research of library knowledge ecosystem based on complex network. Journal of Computational and Theoretical Nanoscience, 14(1), 51–55. https://doi.org/10.1166/jctn.2017.6123
Republik Indonesia. Undang-Undang Republik Indonesia Nomor 43 Tahun 2007 tentang Perpustakaan, 43 Republik Indonesia (2007). Indonesia.
Sharma, Priyanka. (2011). Management Of Information Life Cycle. Journal of Engineering Research and Studies, 2(4), 15-16.
Sun, J., & Yuan, B.-Z. (2012). Development and Characteristics of Digital Library as a Library Branch. In IERI Procedia (Vol. 2, pp. 12–17). Elsevier. https://doi.org/10.1016/j.ieri.2012.06.044
Susanto. (2010). Desain dan Standar Perpustakaan Digital. Jurnal Pustakawan Indonesia, 10(2), 17–23.
Tallon, Paul P. & Richard Scannel. (2007). Information Life Cycle Management. Communications of the ACM, 50(11), 65-69.
Tawwaf, M. (2018). Dinamika dan Tantangan Pustakawan di Era Globalisasi. Pustabiblia: Journal of Library and Information Science, 2(2), 229. https://doi.org/10.18326/pustabiblia.v2i2.229-241
The Society of Chief Librarians, The Reading Agency, & Arts Council England. (2015). Essential Digital Infrastructure for Public Libraries in England : A plan for moving forward. Retrieved from https://www.librariesconnected.org.uk/sites/default/files/Essential Digital Infrastructure for Public Libraries in England_0.pdf
Widayanti, Yuyun. (2015). Pengelolaan Perpustakaan Digital. Libraria, 3(1), 125-137.
Refbacks
There are currently no refbacks.