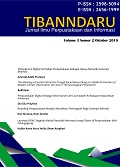 Branding Perpustakaan Melalui Akreditasi: Pentingkah Bagi Generasi Milenial
Abstract
Pengembangan perpustakaan dapat dilakukan dengan mengelola dan memanajemen perpustakaan sesuai dengan  Standar Nasional Perpustakaan Perguruan tinggi, untuk menciptakan citra perpustakaan yang baik di mata pemustaka, perpustakaan perlu menetapkan langkah-langkah untuk menciptakan perpustakaan itu menarik dan diminati oleh pemustakanya. Salah satu caranya adalah dengan branding. Branding merupakan komponen dari proses pemasaran. Branding ini mendefinisikan kepada konsumen tentang produk atau komponen apa saja yang dimiliki oleh perpustakaan untuk di berikan kepada pemustaka.Penelitian ini menggunakan metode sharing best practice dimana metode implementasi suatu konsep atau teknologi yang banyak dipakai oleh individu maupun organisasi. Perilaku generasi milenial saat ini dalam mencari informasi dengan cara menggali informasi melalui mesin pencari di internet, disimpan, share kemudian didiskusikan dalam sosial media. Oleh karena itu perpustakaan harus mempunyai strategi untuk menghadapi tren perubahan lifestyle pengguna perpustakaan. Untuk dapat menjadi perpustakaan yang berkualitas, akreditasi perpustakaan merupakan hal yang penting, karena melalui akreditasi standar pengelolaan dapat dicapai. Melalui akreditasi perpustakaan branding dan citra positif lembaga semakin di percaya masyarakat yang lebih di dominasi oleh generasi milenial saat ini.
References
Absher, K., & Amidjaya, M. R. (2019, Maret 3). Teaching Library Instruction to The Millennial Generation. Diambil dari http://www.vla.org /Presentations/VLA_presentation_draft072208.ppt
Doucett, E. (2008). Creat Your Library Brand: communicating your relevance and value to your patrons. Chicago: American Library Association.
Hawkins, D., & Mothersbaugh, D. (2010). Consumer Behavior Building Marketing Strategy (11 ed.). New York: The McGraw-Hill Companies, Inc.
Institute For The Future. (2002). Reflections On Branding and e-Journals. Diambil dari http://ejust.stanford.edu/findings/interview_branding.pdf
Kamus Besar Bahasa Indonesia. (t.t.). Akreditasi Perpustakaan. Diambil 10 Mei 2019, dari https://kbbi.web.id/akreditasi
Kementerian Riset dan Teknologi Pendidikan Tinggi. Peraturan Menteri Riset dan Teknologi Pendidikan Tinggi Nomor 44 Tahun 2015 Tentang Standar Nasional Pendidikan Tinggi.
Perez, E. L. (2008). Branding. Diambil 6 Januari 2019, dari http://www.infolitglobal.info/logo/en/manual/branding
Perpustakaan Nasional Republik Indonesia. (2014). Pedoman Pembentukan Lembaga Akreditasi Perpustakaan Provinsi. Perpusnas RI.
Solomon, R. (2009). Customer Behaviour: A European Perspective. New Jersey: Financial Times Prentice Hall.
Tapscott, D. (2008). Grown up Digital: How the Net Generation is Changing Your World. New York: McGraw Hill.
Refbacks
There are currently no refbacks.