Traumatic Pneumorrhachis
Abstract
T
Pneumorrhachis (PR), yang merupakan entrapment udara atau gas dalam canalis spinalis, adalah kondisi yang jarang terjadi, dan biasanya dihubungkan dengan trauma dan prosedur pembedahan. Udara intraspinal biasanya dapat ditemukan tersendiri di regio servikal, thorakal, maupun lumbosakral (lebih jarang), namun dapat pula ditemukan di seluruh canalis spinalis. Patogenesis dan etiologi kelainan ini sangat bervariasi dan menimbulkan tantangan dalam diagnosisnya. Prosedur diagnosis pilihan pada keadaan ini adalah CT spinal. Pneumorrhachis biasanya tidak menimbulkan gejala, namun keberadaannya juga dapat mencerminkan adanya pathologi serius yang mendasarinya. Kelainan dasar ini dapat tersamarkan dan harus diperiksa dengan hati-hati agar dapat memberikan terapi yang adekuat. Laporan kasus ini memaparkan kasus jarang traumatic pneumorrhachis pada wanita usia 63 tahun setelah jatuh dari ketinggian yang tidak diketahui dan dibawa ke Instalasi Gawat Darurat dalam keadaan tidak sadarkan diri. CT scan thoracoabdominal menunjukkan adanya fraktur tulang multiple, pneumothorax dan contussio pulmonum, pneumomediastinum, emphysema subcutan luas, dan juga dissecting aortic aneurysm. Karena traumatic pneumorrhachis seringkali disertai trauma berat yang mendasarinya, seperti yang ditemukan pada laporan kasus ini, maka evaluasi mendalam perlu dilakukan untuk menemukan adanya jejas lainya, dan ahli bedah saraf tulang belakang harus memberikan perhatian untuk mencegah komplikasi berupa meningitis dan pneumocephalus.
Keywords
Pneumorrhachis; Intraspinal air; Spinal canal
References
Behzadnia H, Alijani B, Ramzannwzhad A, 2016. Traumatic pneumorrhachis in a young male motor vehicle accident victim. Caspian.J.Neurol.Sci. 2(7): 49-54.
Gordon IJ and Hardman DR, 1977. The traumatic pneumomyelogram. A previously undescribed entity. Neuroradiology. 13: 107-8.
Kara H, Akinci M, Degirmenci S, Bayir A, Ak A, 2015. Traumatic pneumorrhachis: 2 cases and review of the literature. Am J Emerg Med. 33(6):861
Kim SD, Kim JS, Seong JY, Choi YG, Park IK, Baik MW, 2007. Traumatic pneumorrhachis. J Kor Neurotraumatol Soc.3(2):113-115.
Goh BK and Yeo AW, 2005. Traumatic pneumorrhachis. J Trauma. 58(4):875-879.
Gelalis ID, Karageorgos A, Arnaoutoglou C, Gartzonikas D, Politis A, et al, 2011.Traumatic pneumorrhachis: etiology, pathomechanism, diagnosis, and treatment. Spine J. 11(2):153-157.
DOI:
http://dx.doi.org/10.30742/jikw.v8i1.544
Refbacks
There are currently no refbacks.
Copyright (c) 2019 Sianny Suryawati
This work is licensed under a
Creative Commons Attribution-NonCommercial 4.0 International License
.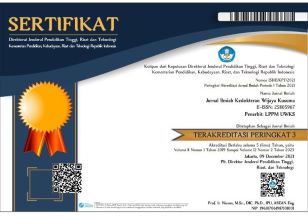 ISSN (Print): 1978-2071
E-ISSN (Online): 2580-5967
Editorial Office
Fakultas Kedokteran Universitas Wijaya Kusuma Surabaya
Jl. Dukuh Kupang XXV no 54 Surabaya, Indonesia
Gedung C lantai 2 (Ruang C216)
Telp. (+62) 31-5686531
Fax.  (+62) 31-5686531
email: jurnalkedokteranuwks@gmail.com

Jurnal Ilmiah Kedokteran Wijaya Kusuma by https://journal.uwks.ac.id/index.php/jikw/index  is licensed under a Creative Commons Attribution-NonCommercial 4.0 International License.