Tiga Kasus Implan Koklea pada Displasia Mondini
Abstract
Mondini dysplasia is a kind of cochlear malformation caused by a failure growth of cochlea in the seventh week of pregnancy, results in cochlear turn which only reaches 1,5 turn until less than 2,5 turn. There is sensorineural hearing loss in Mondini dysplasia caused by anatomical malformation. The diagnosis of Mondini dysplasia is made by accurate anamnesis, audiology assessments and imaging results. This case study explains the importance of the holistic process of diagnosis and treatment of Mondini's dysplasia. Purpose: To explain that Mondini dysplasia should be diagnosed immediately and given the cochlear implant. Cases: There had been reported three cases of cochlear malformation of Mondini dysplasi type. They were first diagnosed with sensorineural hearing loss and speech delay in the age of 2-4 years. After had been done sequence of audiology assessments and imaging CT-scan and MRI simultaneously there were obtained that those three patients had Mondini dysplasia. Case Management: The use of hearing aid in those three patients had no effectiveness that brought them to the decision of cochlear implantation. Cochlear implant became such a great challenge even through for experienced physicians considering the scarcity of the case and the risk for complications like pelymph gusher and incorrect insertion of electrode. Cochlear implant surgeries had been done to those three patients with carefu consideration and the selection for appropriate type of electrode. On the first case there had been applied right ear cochlear implant, on the second case was bilateral, and on the third case was in the left ear. Complications of the surgeries were bleeding and perilymph gusher but they had been solved properly. Electrode insertion in all three cases had been placed correctly. Conclusion: Found three cases of Mondini dysplasia with symptoms of bilateral hearing loss, speech development, bilateral Mondini dysplasia, techniques and complications of cochlear implants. These three cases differ in the shape, width and size of the cochlear anatomy if they are studied more specifically. Two cases of unilateral cochlear implant placement and one bilateral case.
Keywords
displasia Mondini; implan koklea; malformasi koklea; gangguan pendengaran sensorineural; elektroda
References
Bille J and Therese VF, 2014. Outcome of cochlear implantation in children with cochlear malformations. Eur Arch Otorhinolaryngol. 10: 1-7.
Chahbani H, Majdoub S, Achour A, Zaghouani H, Limeme M, Rziga T, et al, 2014. Imaging of congenital inner ear malformations. J Radiol, 10:1–21.
Chen X, Yan F, Liu B, Liu S, Kong Y, Zheng J, et al, 2014. The development of auditory skills in young children with Mondini dysplasia after cochlear implantation. Int J Pediatr Otorhinolaryngol, 9: 1–7.
Giesemann AM, Goetz F, Neuburger J, Lenarz T, Lanfermann H, 2011. Appearance of hypoplastic cochleae in CT and MRI: a new subclassification. Neuroradiology, 53:49–61.
Jackler RK and Cheng AG, 2014. Congenital malformations of the inner ear. In: Paul WF, Bruce HH, Thomas KR, Regan TJ, John KN, Valerie JL, eds. Cummings otolaryngology head & necksurgery. 6th ed. Vol. 2. Elsevier, Philadephia: 2980-2991.
Munsif T, Haider SS, Tewari V, Pasricha N, Siddiqui MS, 2014. Congenital anomaly of cochlea : a case report. IOSRJ Human it Soc Sci. 19: 55–8.
Naito Y, 2013. Diagnostic imaging atlas and case reports. In: Naito Y,ed: Pediatricear diseases. 1st ed. Vol 1. Karger, Kobe: 1-169.
Piromchai P, Kasemsiri P, Thanawirattananit, Yimtae K, 2015. Case report congenital malformations of the inner ear: case series and review of the literature. J Med Assoc Thai. 98: 217-24.
Shin K, Lee J, Kim J, Yoo J, Shin C, Song W, et al, 2013. Quantitative analysis of the cochlea using three-dimensional reconstruction based on microcomputed tomographic images. Anat Rec. 296: 1083–8.
Singleton A. Mondini deformity. Medscape. 2016. Available from:http://emedicine.medscape.com/article/2037435overview#showall.
Tse KS, Chu KM, Chiu LF, Fan TW, Tsang TK, Kwan TL, 2011. Congenital inner ear malformations. Hongkong J Radiol, 14: 118-25.
Waton B. 2013. Cochlear implantation in the difficult ear. Otolaryngol. 1:1–12.
Young JY, Ryan ME, Young NM, 2014. Preoperative imaging of sensor in eural hearing loss in pediatric candidates for cochlear implantation. Radio Graphics, 34:133–49.
DOI:
http://dx.doi.org/10.30742/jikw.v8i2.573
Refbacks
There are currently no refbacks.
Copyright (c) 2019 Muhamad Arif Sudianto Utama
This work is licensed under a
Creative Commons Attribution-NonCommercial 4.0 International License
.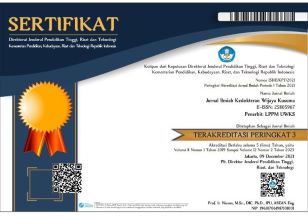 ISSN (Print): 1978-2071
E-ISSN (Online): 2580-5967
Editorial Office
Fakultas Kedokteran Universitas Wijaya Kusuma Surabaya
Jl. Dukuh Kupang XXV no 54 Surabaya, Indonesia
Gedung C lantai 2 (Ruang C216)
Telp. (+62) 31-5686531
Fax.  (+62) 31-5686531
email: jurnalkedokteranuwks@gmail.com

Jurnal Ilmiah Kedokteran Wijaya Kusuma by https://journal.uwks.ac.id/index.php/jikw/index  is licensed under a Creative Commons Attribution-NonCommercial 4.0 International License.